Based in Basildon, Essex Off The Peg Design, is one of the UK's leading website design and development companies offering proactive website management to clients across the world, we believe that taking a proactive stance to website development is the key to the website security, stability and success.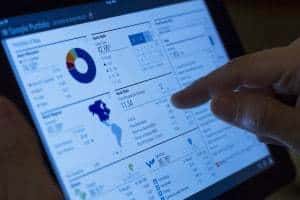 Our website optimization strategies include proven and highly effective SEO techniques such as building backlinks, keyword optimization, and creation of high quality content and integration of social media marketing. We install processes on your website that help it rank higher on Google's SERPs (or search engine results pages).
This may involve the use of the right keywords, image tag, effective meta tags, titles and descriptions, the right scripts, images, videos, graphics and optimizing the site load speed so your website can be easily accessed by anyone looking for information about your products or services.
What are the Benefits of a Proactive Website Management?
Our Proactive Website Management offers you the following benefits:
Protection from frequent shutdowns. We take care of the backend so that your website does not shut down, and if and when it does, on rare occasions, the systems installed by us help to restore it quickly to the original state, without any loss of customer data.
With our analytics tools you can track your website's performance and predict how the site will function as well.
We keep your website fresh with effective malware protection, module updates and install the latest software versions.
With our proactive website management, you may be assured that your website will never fail or malfunction.
We take care of all the details and present you with a simple interface, which saves you both time and money.
Our proactive website management takes care of the technology behind the website, which allows you to concentrate on running your business, without ever worrying about the website's performance.
Strategies Used in Proactive Website Management
At Off the Peg Design, we use the following strategies to help with proactive website management.
SEO
Search Engine Optimization is critical to what we do at Off the Peg Design. We are well aware of the various Google algorithm updates and have crafted our strategies accordingly. We know, for instance, the importance of new Google's Mobile Friendly guidelines, according to which your website design must be made compatible with all mobile devices, as this is now a ranking factor on Google. The other key SEO strategies we incorporate into our website management are:
Link Building
Building backlinks is the key SEO strategy, perhaps the most important. We always build backlinks organically. Our link building is done using only acceptable White Hat SEO strategies, and always staying within the Google Webmaster Guidelines.

Content Creation
Creation of high quality content is the key to a website's SEO. Long ago, when Google was still new, people could get away with low quality content, keyword stuffing or even duplicate content. This isn't possible any longer because of the increased sophistication of the Google algorithm. That's why generating great content is absolutely imperative for your business, and we deliver on that. Our content writers are highly talented and well educated.
Social Media Marketing
It is more important than even before to have a presence on social media platforms such as Facebook, Twitter, LinkedIn, Pinterest, Instagram and YouTube. Social media is today one of the biggest drivers of internet traffic to a website. Any proactive website management strategy must incorporate social media marketing as well.
---
We would love to hear from you! Please fill out this form and we will get in touch with you shortly.

Amazing web designer, so pleased with everything you've done for…

I would 1000% recommend this company. Simon has been so…

FAST & PROFESSIONAL RESPONSE – I have been using this…

From start to finish, Simon was unbelievable. He has a…